When you buy something after clicking a link on this site, we may earn an affiliate commission.
Domain flipping is a brilliant way of harnessing the internet to generate passive income for yourself, your family, or your future.
From the outside, flipping domain names looks like it is simple, but there is a method to follow to be successful, as well as one very dangerous hazard that you'll definitely want to avoid!
So, if you're curious to know more and want to learn how to build your own domain flipping business, read on…
What is Domain Name Flipping?
In a nutshell, domain name flipping is where a person finds a domain name that isn't registered, buys and registers that domain name, and then sells it on for a profit.
Due to the simple nature of the business model, domain flipping has become popular. Inexpensive domain names can be bought for only a few dollars, and then anyone with a computer and internet connection can list them for sale and turn a profit.
What's The Difference Between Domain Flipping And Website Flipping?
In its true sense, the industry of flipping domains focuses on the flip of the actual name – without an associated website.
Website flipping is its own separate topic and not one we'll be covering in this article.
Is Flipping Domains Still Profitable?
You might be forgiven for thinking that with so many domain names already taken, there can't be any left to flip?! Well, there are. Plenty, in fact.
In 2021 there were 5.39 million new business applications in the US alone. Given those stats, there are going to be a lot of people out there looking for vacant or for-sale domain names.
If you can build a portfolio of desirable domains and list them for sale at a reasonable price, then there are plenty of opportunities for domain investors to create a very lucrative business for themselves.
What Was The Most Expensive Domain Name Ever Sold?
Curious to know how much the most expensive domain ever sold is? GoDaddy's list of publicly reported domain name sales shows the top 7 as:
CarInsurance.com – $49.7 million
Insurance.com – $35.6 million
VacationRentals.com – $35 million
PrivateJet.com – $30.18 million
Voice.com – $30 million
Internet.com – $18 million
360.com – $17 million
Those numbers show that a HUGE amount of money trades hands for the right domain name. That said, you'd have to be insanely lucky to sell a domain for that kind of price. Most of them sell for much less than that. Here are some more realistic examples:
look.com – $400,000
monalisa.com – $200,000
bra.com – $165,000
travelzone.com – $15,000
eventset.com – $2588
mailz.com – $1050
thelifeimprovementproject.com – $310
As you can see, prices vary wildly. Experienced domain name brokers can generally give a pretty good estimate as to the value of a domain name just by looking at it. That's a real skill.
But it's an important skill that anyone looking to start a domain-flipping business should look to develop for themselves.
Luckily there's a simple and fun way to learn! The good folk over at namebio.com have created a game called The Domain Game. It's really easy to play and very tricky to master, but it will help you to develop a knack for seeing which types of domain names are sold for the most money.
Download it today but be warned – it's highly addictive!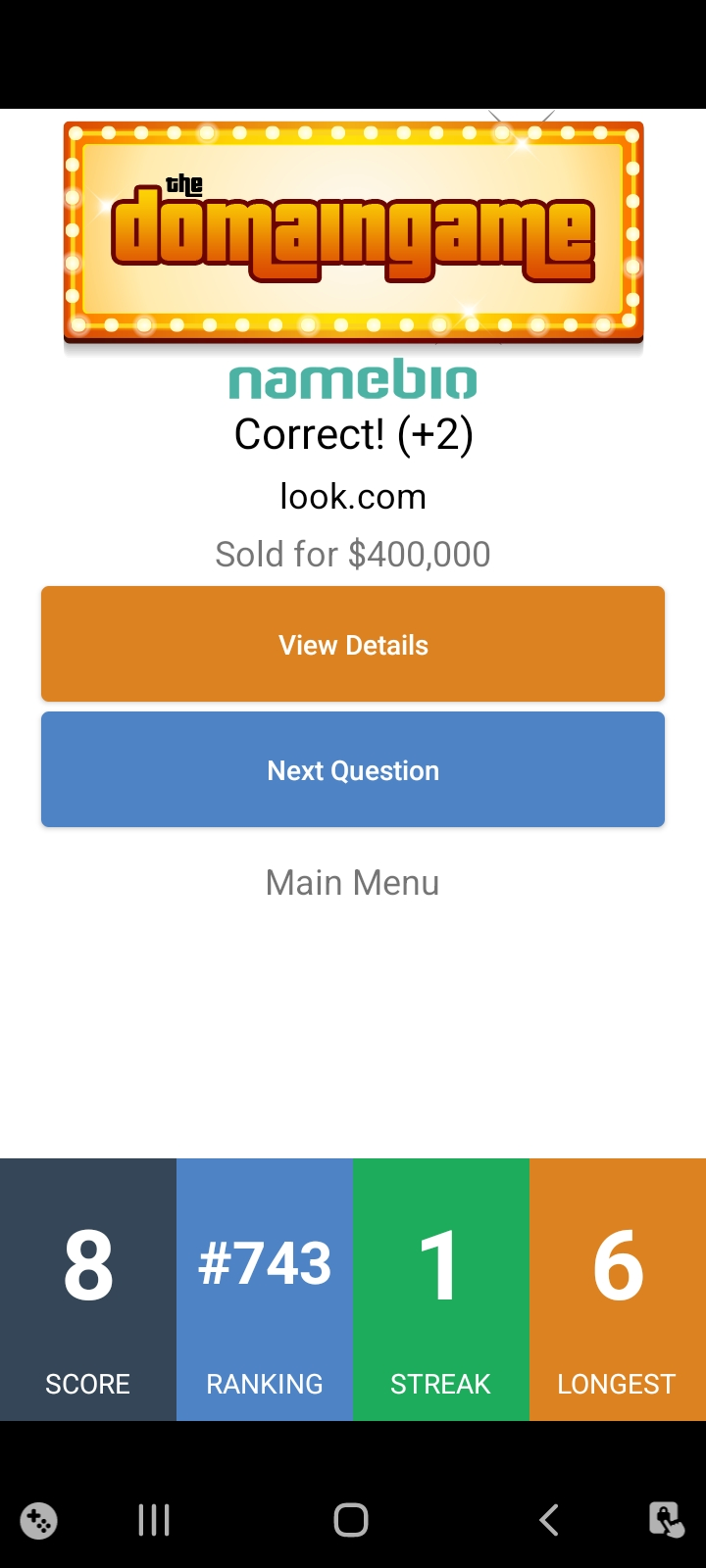 Risks Domain Flippers Should Be Aware Of
Before we get onto the cool stuff, it's important to look at a potential risk to be aware of when looking to buy and flip domains. You'll want to make sure you avoid trademark infringement.
I'm not a legal expert, so for more information on this important note of caution, check out this article from nolo.
Profitable Domain Names – The Basics
Now you know a little of the background of the industry, let's dig into the nuts and bolts of how to create passive income by flipping domain names.
There are three very simple rules to bear in mind when you're trying to decide if a domain name is profitable. The essence of all of these boils down to this – how memorable is it?
1 – Number of Words
The number of words in a domain name is one of the most important value factors – the fewer words, the better.
One-word domain names are easily the most powerful and valuable. Twenty-three of the twenty-five most expensive domain names sold consisted of one word. The remaining two had two words. Why? Because it's easier for people to remember them. And for brands, that is incredibly valuable. One-word businesses are very brandable, and one-word domain names are therefore very much sought after.
2 – Number of Characters
Closely linked to the number of words is the number of characters – 15 or less is the general recommendation.
You could find a domain name that is one word in length, but if that word is long and hard to spell, then it's not going to be easily remembered – paleobiogeography.com, anyone?
3 – .com Is Still The Best
A domain name is split into two elements, and in the world of domain flipping, both are important.
A Second-level domain (SLD) is the name of the actual website – in the instance of the website you're on now, the SLD is dumbpassiveincome
A Top-level domain (TLD) is the part that sits at the end of the domain name. For dumbpassiveincome it's .com
More and more TLDs are being created to cater to the huge number of websites needed, and in time some of them may become as trusted as .com.
But right now .com is the most recognized globally – just over half of all websites use .com, which makes domain names with that TLD the most valuable.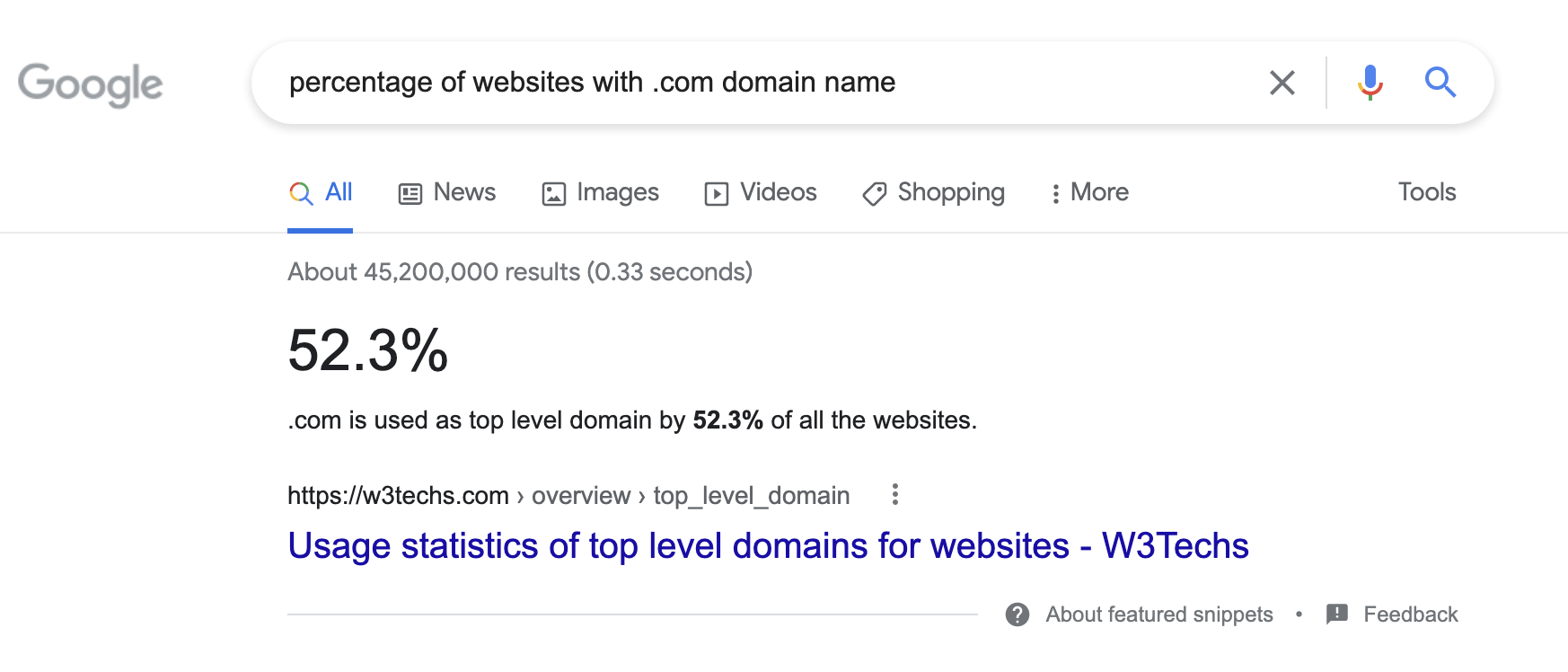 How To Find A Profitable Domain Name to Flip
Using those three basic building blocks above, let's move on to actually finding a profitable domain name.
While there are still a huge number of domain names out there to snap up, picking a valuable domain is the real key skill to learn. Here's how to do it.
1 – Find A Profitable Niche
Traffic is a very valuable metric when trying to determine online value. When evaluating if a potential domain name is going to be profitable, you need to know that the word or words that form your domain name are being searched for. How? By following this simple process.
Check Search Traffic Volumes and Social Popularity
Use a tool like Google Trends or Google Keyword Planner to check for search volumes for a keyword. Let's say I'm curious to know if my hobby of drone photography is a highly searched term. If I head onto Google Trends and search 'drone' – I get these results: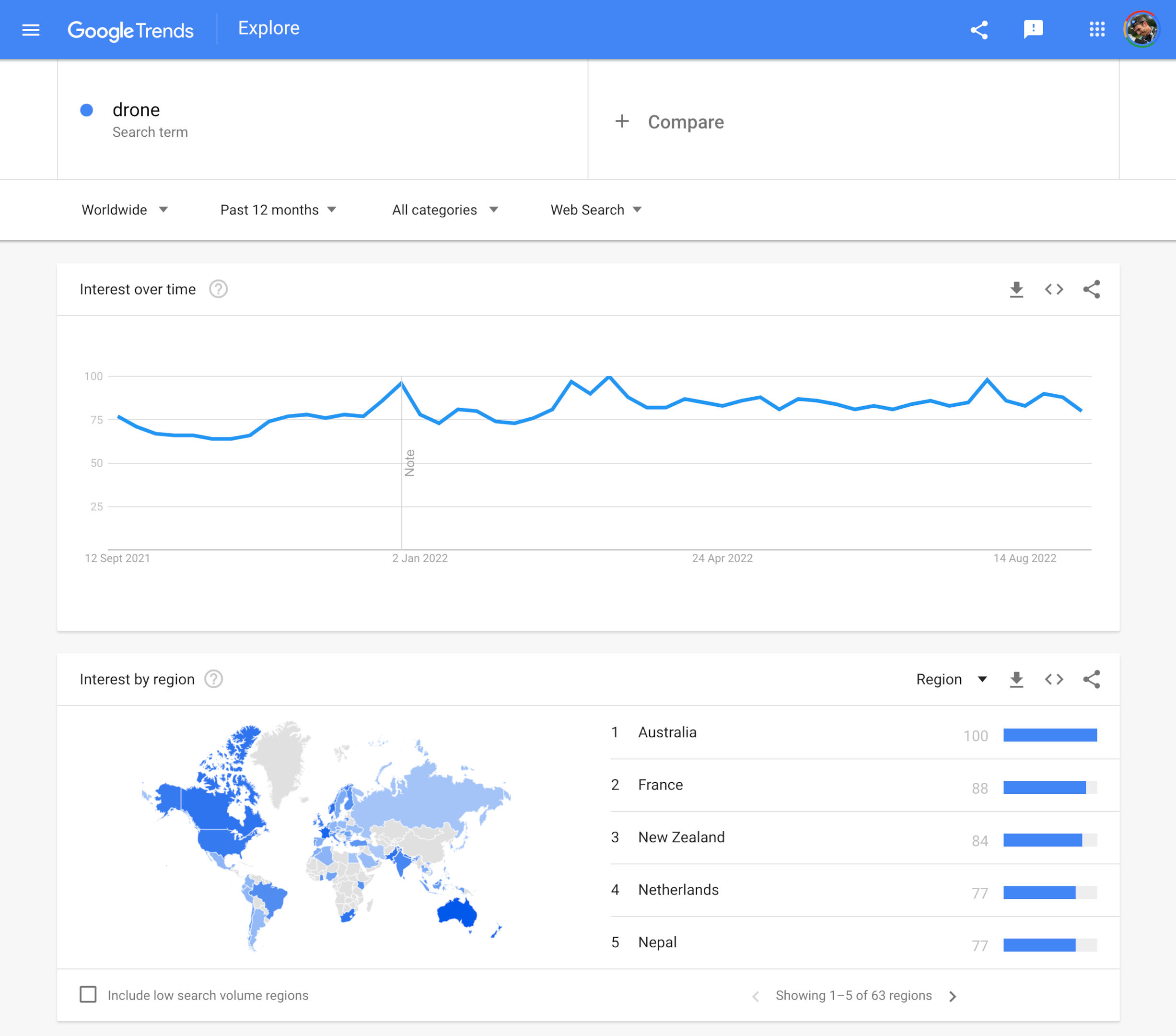 'Drone' is a very popular search term in multiple countries around the world. All good. I'd double-check this in Keyword Planner and also hop onto Reddit to see if there are groups on there with large active followings.
If there are, then these are all indicators that I'm heading in the right direction when looking for a domain name to flip.
Google Keyword Planner also allows me to see other search volumes relating to my keyword. This can be a valuable way to find alternative keywords to get that short .com domain relating to the niche. Top tip – refine the keyword results to turn off all brand associations.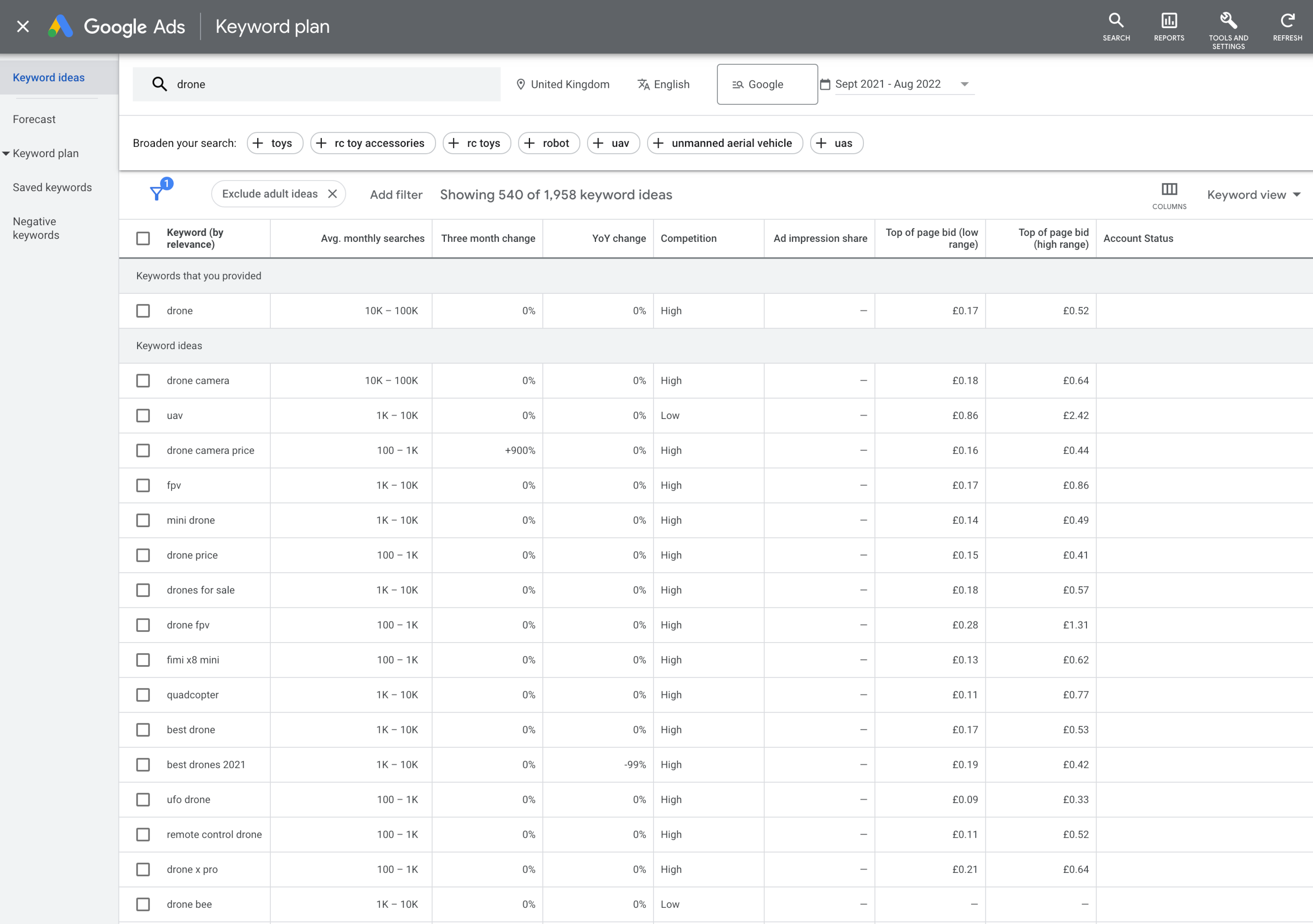 Search for a domain
Next, use an online tool like Instant Domain Search to type in an idea for a domain name. Let's continue with the 'drone' example. If I type 'drone' into the search box, I can see straight away that the .com TLD is already taken – no surprise.

If I click on the Domain Extensions link, I can see which TLDs are not taken: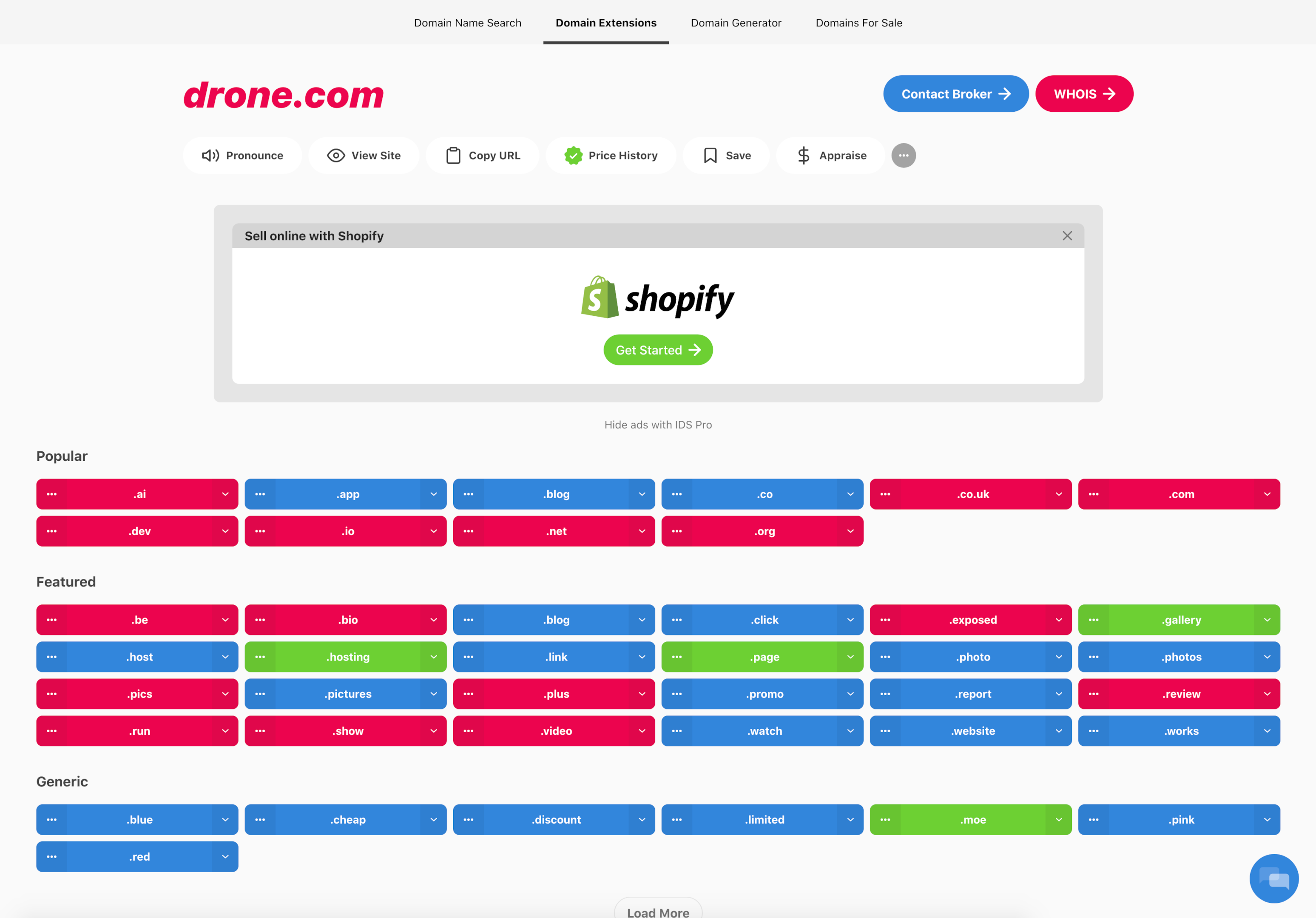 In this case, there aren't many (green is available, blue means for sale, and red ones are taken but not for sale). And TLDs ending .gallery, .hosting, .page, .moe don't sound very profitable to me.
But if I then click the Domain Generator link, I get to see a huge list of alternative ai generated domain names containing the word 'drone'.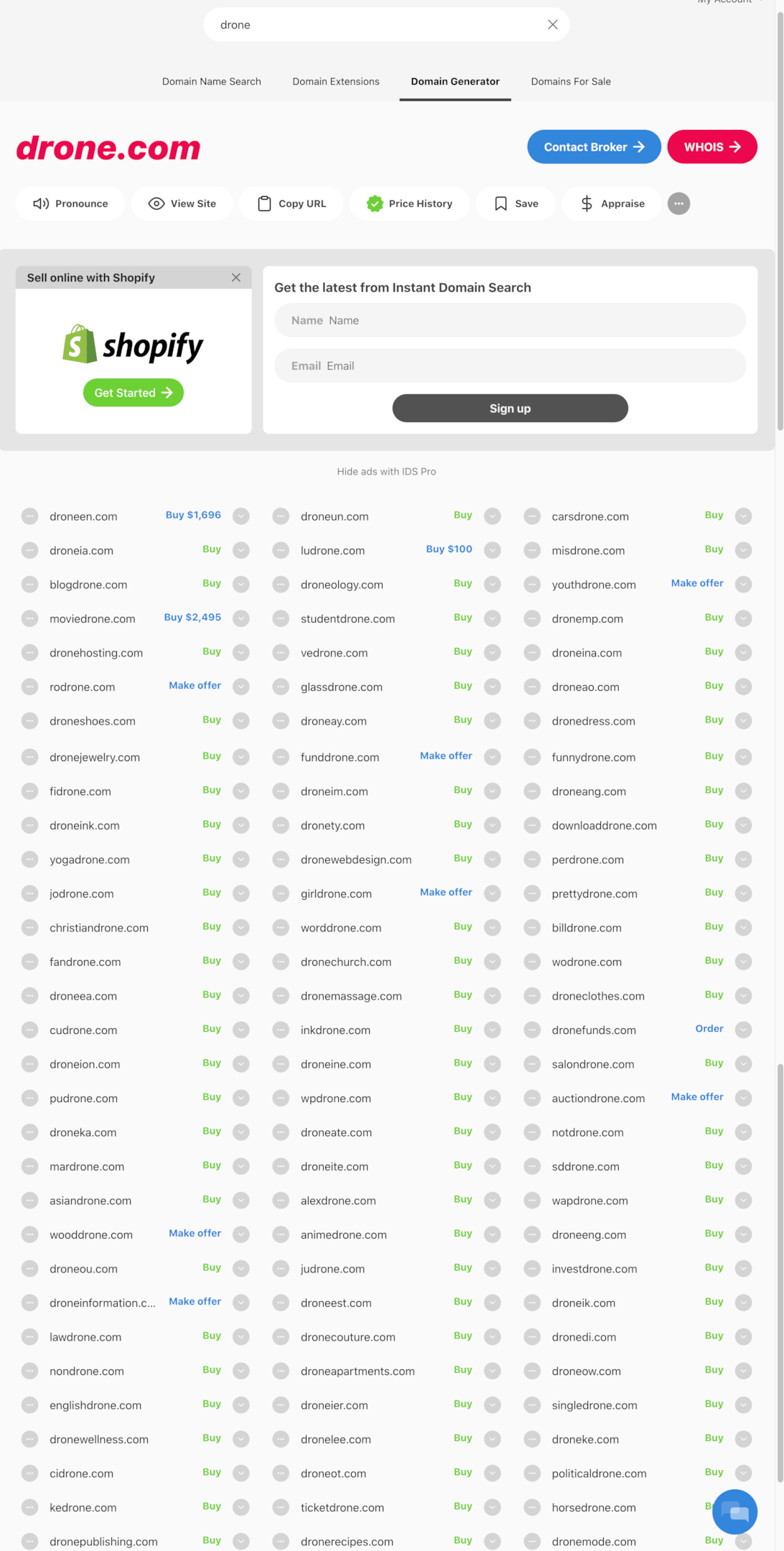 Handy, right? I'd then go through this list to see if I felt anything was short, catchy and brandable.
Think About Local Domain Names
If when you do the above process, you really can't find a good .com name, try thinking of local domains.
In the drone example, maybe you could dig into the Google Trends stats to find out where the hubs of drone activity are in the world and add those location names into the domain name to check availability.
Doing this, I found that New Zealand was a hot spot for drone photography/videography. And it just so happens that dronenzl.com is available to buy.
Using this local tactic can help you to build a portfolio of valuable domain names. The localized versions may not sell for millions, but a national drone seller in New Zealand might well pay a few thousand for that domain name. You could even drill down from a national level and go via city.
Once you've found a good domain name, it's time to evaluate it…
2 – Evaluate The Domain Before Buying
It's easy to get carried away with domain flipping (I bought two more while writing this article!), and it can be an easy mistake to snap up a domain in the heat of the moment (before someone else buys it, right?!) without evaluating the domain name properly.
Once you've settled on a domain name, check back through the three key metrics from earlier and ask yourself the following questions:
does it have as few words as possible

? If you can find one, that's amazing, but I'd steer clear of anything longer than three.

is it less than 15 characters

in length?

is it memorable

?

is it brandable

?
Think About Voice Searches
Then, it's worth thinking about how the domain name sounds when said out loud.
Voice searches are becoming more popular – could the domain be misunderstood audibly? For example, 'Alexa search for insight.com…' could take you to incite.com
Probably not what you're looking for.
Having a domain name/business name that is easily searchable via voice is also good for potential advertising anywhere the spoken word is used – radio, podcasts, audiobooks, etc. All of this is part of the brandable metric.
3 – Get A Rough Evaluation
Next, use estibot to give yourself a guide as to the potential value of your chosen domain name. GoDaddy has its own domain appraisal tool, but from using it, I think the valuations feel a little generous.
The image below shows the valuation estibot gives for one of the domains that cost me $14. The panel on the right shows domains sold that contained the same keyword as well as some general data on popularity and TLD choice.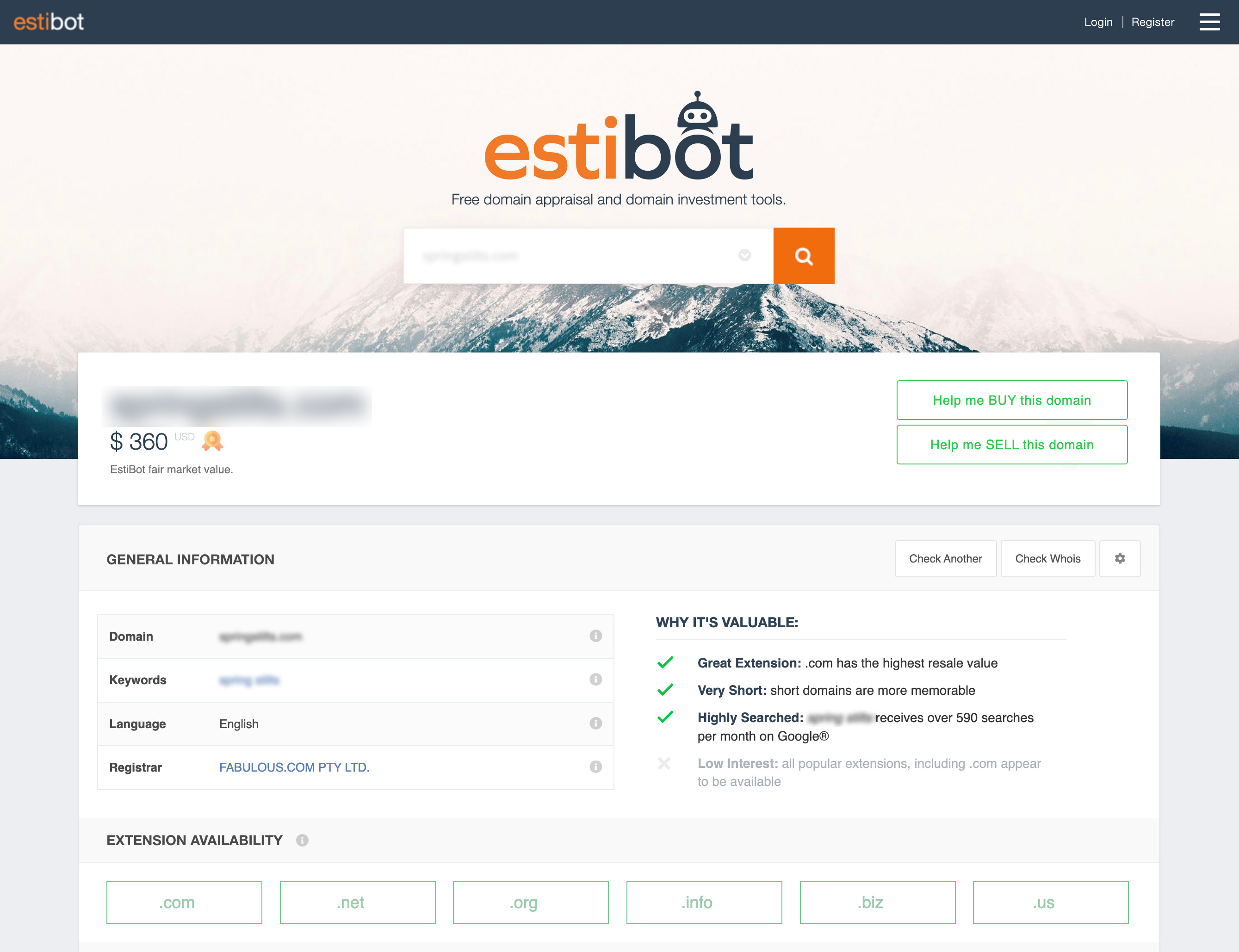 If, after going through all of those checks, you decide you've found a domain name you'd like to flip, then it's time to buy it…
How To Buy A Domain Name
Thankfully, choosing a valuable domain name is the hardest part of the domain flipping process. Buying domains is relatively straightforward – you just need to choose where to buy from.
Reputable Places To Buy Domains From
Some of the recommendations below are domain registrars, and some also offer hosting packages. If you just want to buy the domain and then flip it, you won't need the hosting element and so if you find a cheaper deal with a domain registrar, go for it.
Expired Domains and Domain Drop Catching
An option potentially worth considering is buying an expired domain name. There are specialist sites that list recently expired domain names or ones that are about to expire – this latter technique is known as 'drop catching'.
Domain drop catching, also known as domain sniping, is the practice of registering a domain name once registration has lapsed, immediately after expiry. (Wikipedia)
Although the range of domain names to choose from will be more limited, the benefit is that domain URLs that have had websites associated with them in the past will retain some of the search engine optimization benefits.
This can make domain names even more valuable, as it gives any potential end buyer an initial SEO boost that can help the new owners to rank content much faster.
Domain flippers use sites such as these to find recently expired domains:
If you do look into buying an expired domain name, then the same rules apply – short URL with a .com TLD, brandable and memorable. But…
A Word Of Warning…
If you're buying an expired domain, you also need to dig a little deeper to ensure that the reason the old owner didn't renew the domain was legitimate.
If the site owner didn't renew because they had been doing something that Google deemed bad, then the URL may be under a Google penalty. And you don't want to inadvertently buy one of those.
Also, bear in mind that if an expired domain has some domain authority and some SEO benefit, then you'll be paying much more for it in the first place. So if you're a beginner, it's perhaps wiser to stick to new domain names.
Whichever method you've used, once you've bought your domain, domain registration happens automatically – it's now registered to you.
How Much Does a Cheap Domain Cost?
Prices do vary a little between vendors.
Check the small print. Often, prices are heavily discounted for the first year. This is great if you intend to sell within that time frame.
But if you want to keep it longer (or if the domain name takes longer to sell than you hoped), then the increased price post-year one may be something you want to take into consideration.
I've typically paid between $10-$15 per domain name.
Next up, it's time to think about selling the domain – arguably the most exciting step!
How To Sell A Domain Name
Before diving straight into the selling part, there are a couple of things you will probably want to do with your domains before listing the for sale
Why Domain Flippers Should Consider Creating a Landing page
By creating a simple landing page with your contact details, prospective buyers who land on your site can easily get in touch to talk about buying it from you.
Parking Domains
Arguably better than a landing page, while you're waiting to sell your domain, you might want to take advantage of what is known as domain parking. Registrars like sedo allow you to host advertising and earn a little cash before the sale.
With domain parking, you earn money with thematically matched advertising links. Whenever someone clicks on an ad, you get paid!
Now it's time to move onto the selling stage, and there are two general ways to sell domains.
1 – Auctions
Flipping domains via an online auction site is by far the simplest way of selling domains. It's also the least time-consuming – we're looking to make passive income here, don't forget.
There are a lot of different places to sell online, but these five are all established and have good reputations, with GoDaddy being the most popular for beginners.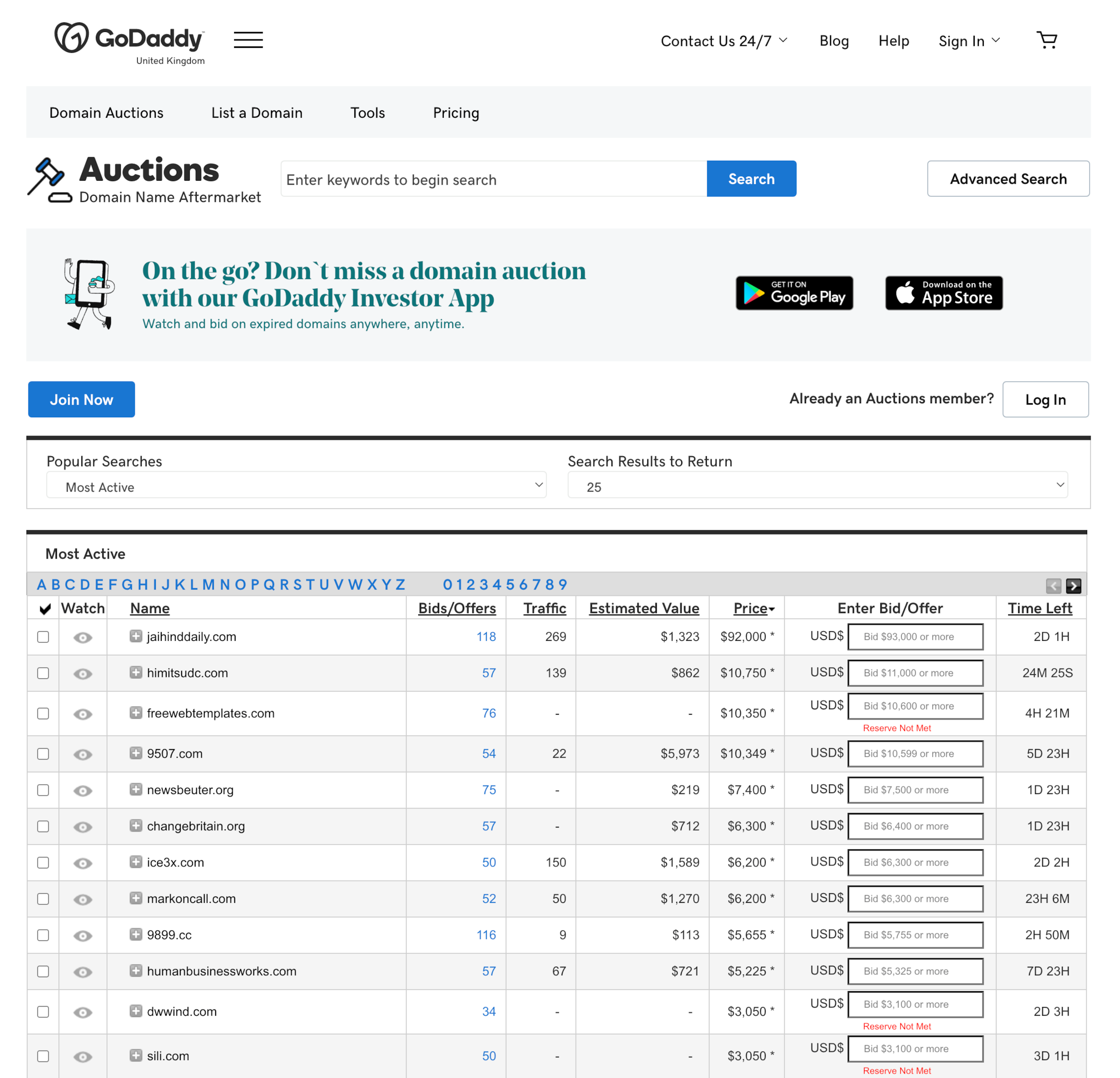 2 – Forums
There are several dedicated online forums where you can also list domains for sale. Two of the most popular include:
How Much Does It Cost To Sell A Domain?
When it comes to selling domains, listing them for sale is often free, but you'll typically pay a commission once the domain name sells.
As an example, sedo off three levels of commission, 10%, 15% and 20%, depending on the level of market exposure you opt for. sedo also has a minimum sales fee, which for .com domains is currently $20.
As it's one of the most popular sites in the domain sales industry, let's compare this with GoDaddy. There are also three tiers of commission listed, but they're tied to the sale price of the domain name rather than to the marketing option you choose.
Sale price: $0 to $5000 – Commission rate: 20% ($15 minimum)
Sale price: $5,001 to $25,000 – Commission rate: $1,000 plus 15% of amount over $5000
Sale price: $25,000 and over – Commission rate: $4,000 plus 10% of amount over $25000
How Fast Do Domains Sell?
Selling domain names is more often than not a slow-ish process. When listing one for sale on a site it can remain unsold for weeks or months or even longer.
The stumbling block to most domains selling quickly is the price. People see those domains selling for hundreds of thousands of dollars and try to get an exaggerated price for theirs.
Personally, I'd much rather price a domain to sell faster – after all, if I can sell something for $500 dollars just a few months after buying it for $15, I'm going to be very happy. It's a better return than any stock or fund I've ever bought and a far less risky investment than buying a property to rent out.
Many domain flippers will actually buy a domain and deliberately sit on it for a while before listing it for sale, following trends and news, and waiting for the market conditions to be right to aim for maximum returns.
How Much Should I Sell A Domain Name For?
Use as many free domain appraisal websites as possible to get a balanced valuation. I've listed GoDaddy's appraisal tool here as well, despite those valuations generally being outliers when compared with the other (more realistic) estimates.
Is It Illegal To Sell Domain Names?
No, it's not illegal to buy and sell domain names. While new start-up owners will undoubtedly be frustrated to find that someone has already thought of their business name and bought the corresponding domain, there is nothing wrong with domain investors doing it.
Having the right domain name can save businesses thousands of dollars in marketing, and so the savvy ones amongst them will see paying for a great domain name as an investment rather than just another start-up cost.
How Passive Is Domain Name Flipping?
Domain flipping can be a reasonably passive income stream or not, depending on how much time you want to invest in it.
Personally, I like to do a lot of research around trends and topics, as well as trying to do a bit of future gazing to try and land myself a prize domain (still working on that one!).
But you could use your common sense and look for one to three word domains with a .com TLD in a reasonably popular niche and then simply put it up for sale in an auction. This approach is pretty passive and shouldn't take very long at all.
Domain Flipping – The Key Takeaways
I hope this article has given you some tips and whetted your appetite for making money flipping domain names! Given the low start-up cost and low risk, domain investing is a great way to try to make some passive income online.
Just remember the golden rules…
A savvy domain investor will invest in brandable domains by finding a short SLD with a highly searched keyword and a .com TLD.
Keep your finger on the pulse of new trends, be careful not to infringe any trademark, and you've given yourself every chance of success. Good luck!
Related Read: 27 of the Best Passive Income Ideas for Everyday People